Vitali-Chi Wellbeing and Skin Care Products are infused with natural healing properties that revitalise your energy. They are gathered from flowers, herbs, essential oils and Earth minerals.
These unique blends are the result of 30 years' experience researching Eastern and Western healing traditions.
They have formulated a range of products that will not only help you look younger but feel healthier too, because the products they produce operate at a level that is more than just skin deep.
I use these products in my treatment options below. To see the full range of products Vitali-Chi offer please use the links below.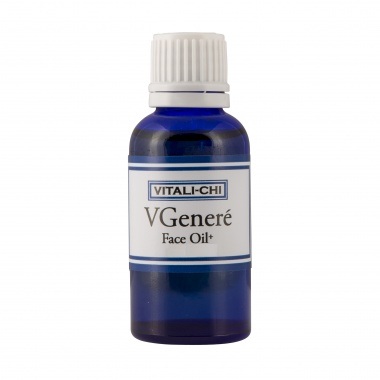 VGeneré Face Oil+
Contains super absorbent and skin loving, hydrating oils of peach, rice bran, grapeseed, jojoba, hazelnut, wheatgerm and pure Vitamin E.
Full of antioxidants and vitamins A, B, C, D, E that nourish, protect and feed the skin which promotes skin elasticity and suppleness and helps repair damaged skin, rosacea and acne scars.
Good for sensitive skin and comes in a 30ml bottle.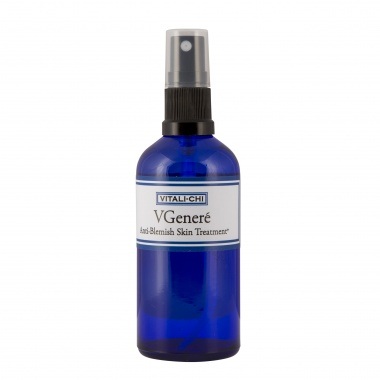 VGeneré Anti-Blemish Skin Treatment+
Suitable for spots, acne and skin eruptions. Formulated with botanical witch hazel which deeply cleanses and reduces open pores.
It protects from bacterial and fungal infections and creates smoother skin due to its skin toning properties reigning supreme.
Also soothes wet eczema and comes in a 100ml bottle.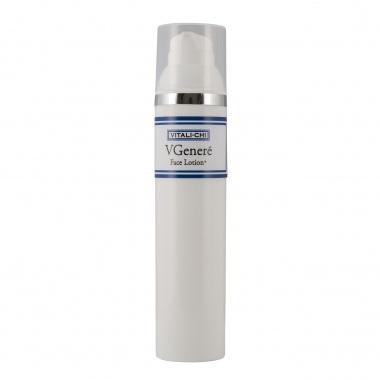 VGeneré Face Lotion+
Light face lotion suitable for all skin types including oily and bacterial skin. Powerful, organic and skin toning to help all skin types, open pores, acne and acne scars, giving skin a radiant, healthy and glowing appearance.
Also helps diminish sun damage and is proven to boost skin's natural sun protection. Lightens discolouration, refines skin texture and reduces wrinkle formation.
Contains natural aloe vera, sunflower oil, MSM, Vitamin C Ester, shea butter, jojoba, Vitamin B5, E, green tea, gotu kola, horsetail, wild geranium and dandelion.
100ml bottle.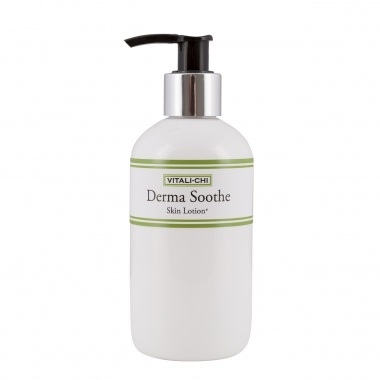 Derma Soothe Skin Lotion+
Unfragranced, suitable for sensitive, young or distressed skin exposed to chronic stress, chemical overload, radiation, allergens and a harsh environment which may cause prickly heat, skin rash, inflammation, eczema, dermatitis or psoriasis.
Helps restore balance. Organic oils of olive, flax and sunflower together with shea and cocoa butters present rich sources of Vitamin E and essential fatty acids to nourish, repair and restore the skin.
Vitali-Chi Derma Soothe Skin Lotion is available in stylish 100ml and 250ml plastic bottles.
ANTI-AGEING VITALI-CHI VGENERE FACIAL

A well being Luxury facial which will remove dead skin cells, plump, protect and restore your skin.

The products used within the treatment are infused with natural healing properties and contain unique blends of herbs, essential oils and Earth minerals and are the result of 30yrs of experience in Eastern and Western healing traditions.

They work at a cellular level.They are paraben free, not tested on animals and vegan friendly.

1 hour and 10 mins of luxury, treat your skin and relax with a complete lymphatic drainage and pressure point massage of face neck head and shoulders.

(1hr 10 mins)
£50.00
VITALI-CHI VGENERE SPECIALIST FACIAL

For alL skin types works to improve broken capillaries, pigmentation, fine lines and wrinkles as well as calming inflamed areas like rosacea, eczema, dermatitis, psoriasis or acne.This treatment includes a lymphatic drainage massage and pressure point massage of the face, neck, shoulders and head.

(1hr 10 mins)
£50.00